There are many establishments, shops, salons, offices and professional studios that have chosen to guarantee their customers with a constantly sanitised environment. We at Jonix have been asking ourselves how to make sure that those who still do not know these sanitised environments can choose them according to their needs, knowing to enter a safe space.
So, after a lot of work Jonix MAPS was born, a one in a kind app, which transforms the sanitised air into an additional competitive advantage for you and a great added value for your customers. And it doesn't cost you anything!
What you will find in this article
What is Jonix Maps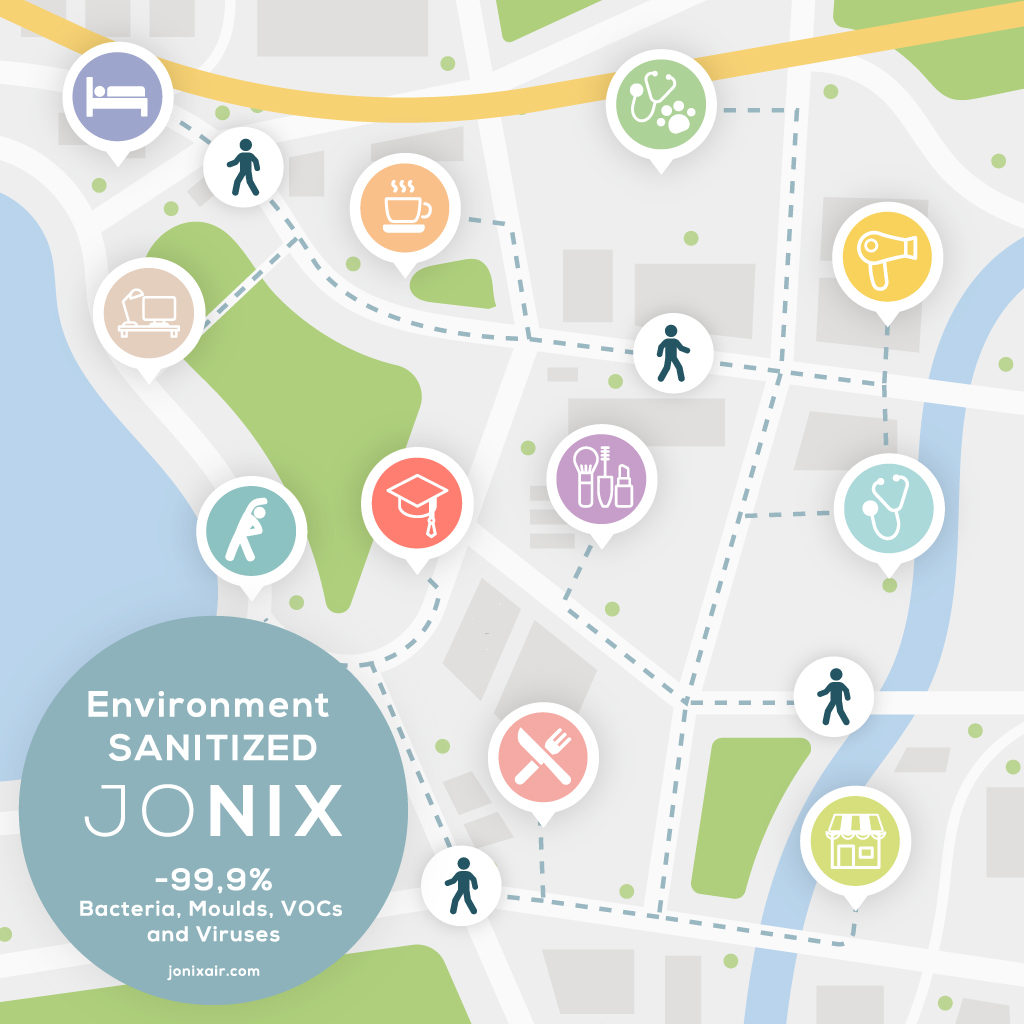 Jonix MAPS is the first app dedicated to sanitised professional spaces like yours. It geolocates all the environments treated with our devices in a single map: when customers want to go to a business (shop, restaurant, bar, hotel, lounge, office, etc.) where the air is constantly sanitised, they can easily find it in a few seconds, based on distance or location, and the type of service sought.
With Jonix Maps you highlight the choice to keep the air in your rooms constantly decontaminated and communicate that you have the best regards for the safety and well-being of your customers.
With the Jonix MAPS app you can reach new contacts and be found by all those who carefully choose where to enter, where to buy, where to take care of themselves, where to spend their time.
Joining Jonix MAPS is completely free and brings numerous advantages:
Highlights the attention to safety and hygiene that you offer to those who enter your business
It allows you to be found by new customers
It optimizes your reputation
It increases your visibility and traffic to your site (or your social networks)
How it works
Jonix Maps will show a map with companies with Jonix devices in the vicinity of those seeking one. The customers can search what they need by filtering the results by category and location: near where they are or near a specific place (region, province, city, etc.).
A map with an icon will then appear: by clicking on it the tab of the chosen structure will open, showing details such as what service is offered, the address, the telephone, the e-mail and the website. From here customers can call you directly to book an appointment or start the sat nav on their smartphone to reach you.
For more information on Jonix MAPS click here
How to take part in it
Go to this link
Fill in the form with all of your business's data, upload your company logo and a cover image
Click on SEND, our staff will contact you to notify you that your company has been included in Jonix MAPS
As soon as we have uploaded all of our contacts, we will make Jonix Maps downloadable for free from every main app store, for Android and iOS and we will send you the link so that you too can share it with everyone.
Download Jonix Maps